When a fire truck has been damaged while in service or by accident, there are a few important questions operators often ask.
Who can fix it and how long will it take? And, is there anyone who can help me navigate the complicated insurance process?
In each case, the answer is … Golden State Fire Apparatus, the exclusive Pierce dealer in California from Bakersfield to the Oregon border.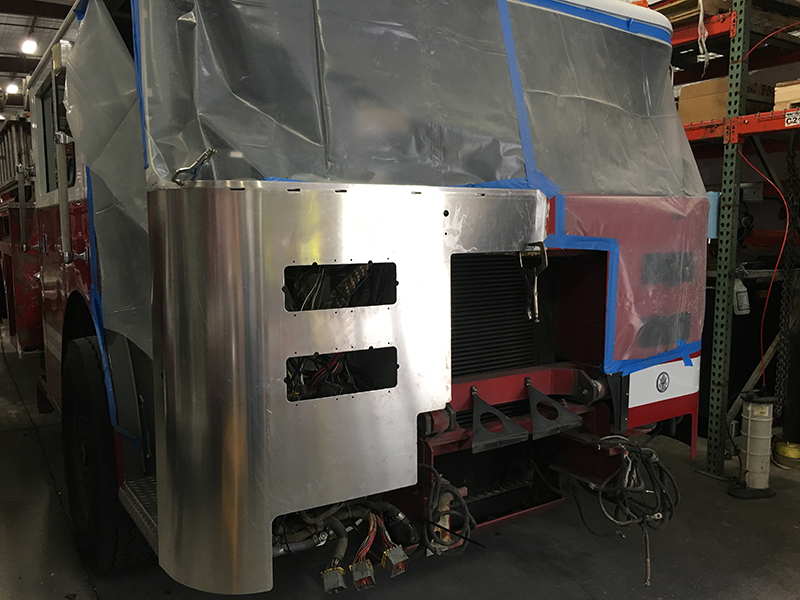 Currently, GSFA is working on an elevated waterway pumper that partially caught fire last fall.
"We're redoing all the wiring and some of the plumbing," said Service Manager Rick Tracy. The pumper has been in the shop for two months and it probably will be March before it's ready to return to duty.
Also in the shop now is a truck with cracks in the cab compartment. GSFA spent four months fixing a truck that hit a tree. It just finished another truck that sideswiped a tree, peeling back much of the skin on one side.
"That took about almost a year," Tracy said. "We had to take the whole body apart."
GSFA has onsite fabrication capabilities – a key distinction separating it from the competition.
"Body compartments, shelving, some of the tread plating, welding — we do a lot of that here," said Jason Dinkel, Golden State's operations manager. "We can put it all together, straighten it, whatever is needed. We do a lot of front-end collisions."
Photos and short updates are emailed weekly to keep clients fully informed about the status of repairs.
In severe cases — bent frames, damage to aerial equipment or when major rewiring is needed – Golden State will send the unit back to the Pierce refurbishment center in Wisconsin. Even in those situations, Tracy and his team act as a liaison between the operator and Pierce, providing regular updates and progress reports.
No one anticipates an accident, of course. Some happen in the course of driving to emergency calls; others occur in the field when trees, buildings or other objects come in contact with the vehicle or it's damaged by the fire itself.
No matter the circumstance, Tracy recommends that customers call GSFA as soon as they can so damage can be assessed and the repair process can begin. He has a one-page form from Pierce that he asks the operator to fill out.
"Because it's an emergency piece of equipment, it's important that we represent the scenario – accident, failure of equipment, operator error — whatever happened," Dinkel explained.
Pictures also help Golden State and Pierce technicians evaluate the damage. In some cases, Tracy has driven to fire departments to inspect the equipment himself.
"One of the first things we determine is whether we can do the work ourselves or we need to send it to the Pierce refurbishment center," said Tracy. "We had a tiller last year where a lady hit it driving 45 mph. She never slowed down. Because the frame was bent, we had to send it to Wisconsin."
One of the most important aspects of contacting GSFA early is that it allows Tracy to immediately begin working on behalf of the client with insurance companies.
"That can be a spot where it can become a big bottleneck," Dinkel said. "Rick has working relationships with all the major adjusters in our area. He can help provide service to the customer and take some pressure off of them. … He takes over and represents them to the insurance company."
Our trained staff of Emergency Vehicle Technicians work out of our 35,000-square-foot maintenance facility in Sacramento. We continually invest in tools and equipment so that your emergency vehicle receives the utmost care, while reducing the man-hours required to get the job done right. If you have any questions about any aspect of your equipment's performance, we're here to help. You can reach us at (916) 330-1638 or at info@goldenstatefire.com