Fire Truck Face-Off combines fun, competition and a good cause
The NCAA basketball tournament – commonly referred to as March Madness by millions of fans – captures the attention of much of the country each spring as college teams compete to see who will be crowned the national champion. It's compelling, it's dramatic and it's fun. Even non-fans are drawn in, often filling out their own brackets in an effort to predict the ultimate winner. Borrowing a page from the NCAA, Golden State Fire Apparatus hosted its own online competition in March, called Fire Truck Face-Off. It was formatted similarly to March Madness, with 16 Northern California fire agencies divided into four regional brackets.
Each agency was represented by a piece of fire apparatus it had purchased from GSFA. People then went to the GSFA Facebook page to vote for their favorites in head-to-head contests. Each day featured a different matchup – a pumper from Vacaville against a rescue vehicle from American Canyon, a tiller from the city of Merced against a similar vehicle from Tracy, a PUC pumper from El Dorado Hills against an aerial from Sacramento Metro.
Departments were encouraged to do whatever they could to drum up support. Many leveraged the reach of their own social media sites to encourage voters. Some attracted regional media attention, including a report on Merced's efforts from the ABC affiliate in Fresno.

As the weeks went by, interest intensified – firing up the competitive spirit of the departments that continued to win.
"I've never used social media so much in my life," said Merced Captain Dewayne Young. "We saw results in real time. We were constantly monitoring how the vote was going."
Though it was one of the smaller departments in the contest, Merced went all out. It created a video that it posted on its own Facebook page highlighting its tiller as well as the community, and encouraging followers to vote. A fire official appeared on a morning TV show. The Face-Off became a citywide event. It worked. Merced made it all the way to the finals, where its tiller faced off against Vacaville's pumper.
Ultimately, nearly 24,000 votes were cast.
GSFA's Facebook page saw traffic, comments and page "likes" skyrocket. More than 330,000 Facebook users were reached during the month – an extraordinary number.
"Metrics only tell part of the story," said Golden State President Ryan Wright. "I think of the overriding principles: the friendly spirited competition of the fire service and the good cause that it would benefit.
"Everyone's so serious about marketing their business and products. There's a time and place to have some fun. … We're all sports fans and the NCAA Tournament is one of the most intriguing things to watch. It doesn't matter if you're a man or a woman, or know anything about basketball, everyone enjoys the drama."
Young, a 20-year veteran in the Merced department, said it was gratifying to see much of the community rally to the cause.
"Our members asked their friends and family to help," he said. "It didn't take much convincing. You could just see a rise in morale around vote time. … It was all about having fun, but each week it was getting a little more tense. Every time we went to a new round, we would blast it out on our social media. We found that people were just waiting for it to happen."
Beyond bragging rights for the Merced Fire Department, the biggest winner was the Merced County Special Olympics, which received a check for $1,750 on June 12.
That reflected a $500 contribution from GSFA, which was matched by the Merced Firefighters Association as well as donations from a Merced real estate company, a local car dealership and another labor group.
"To be honest, we really didn't know what we were getting into," Young said. "But it was a great experience. It not only spotlighted our apparatus that the city paid for, but our department, our city and, of course, Special Olympics."
This year actually was the second Fire Truck Face-Off, which debuted in 2013 as the brainchild of GSFA Operations Manager Jason Dinkel. He represented GSFA at the check presentation in Merced.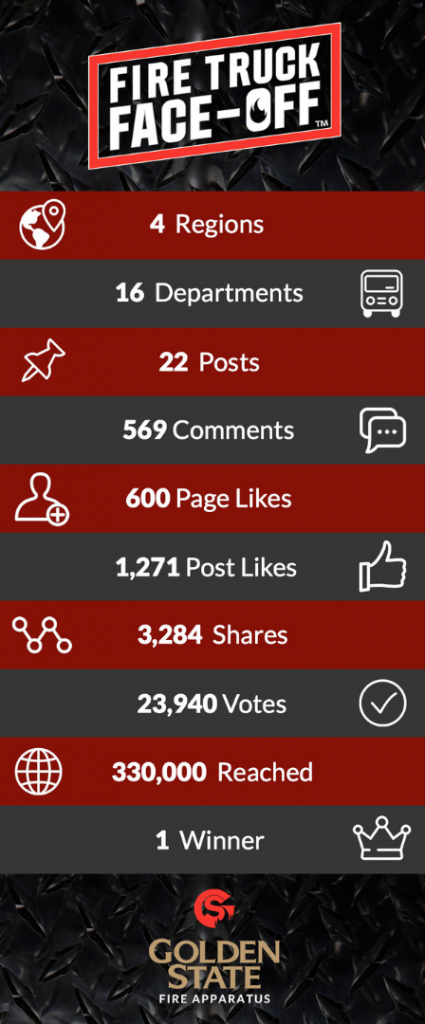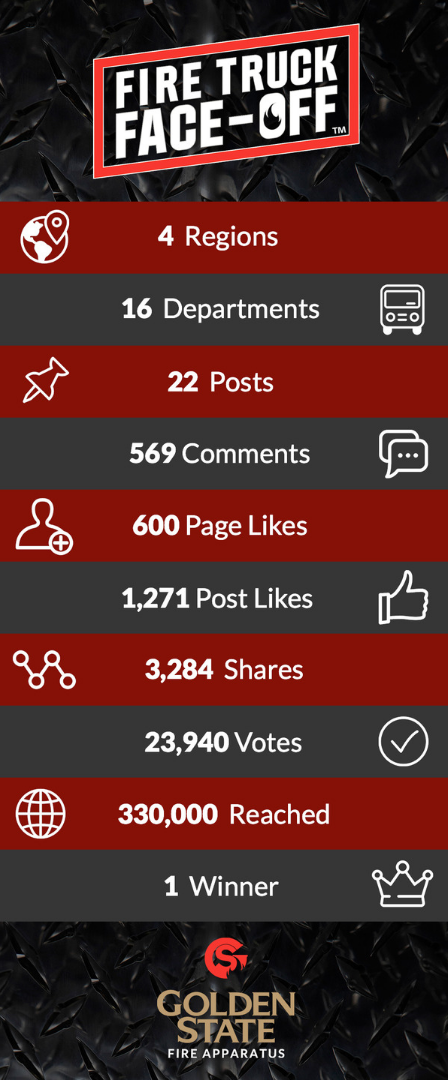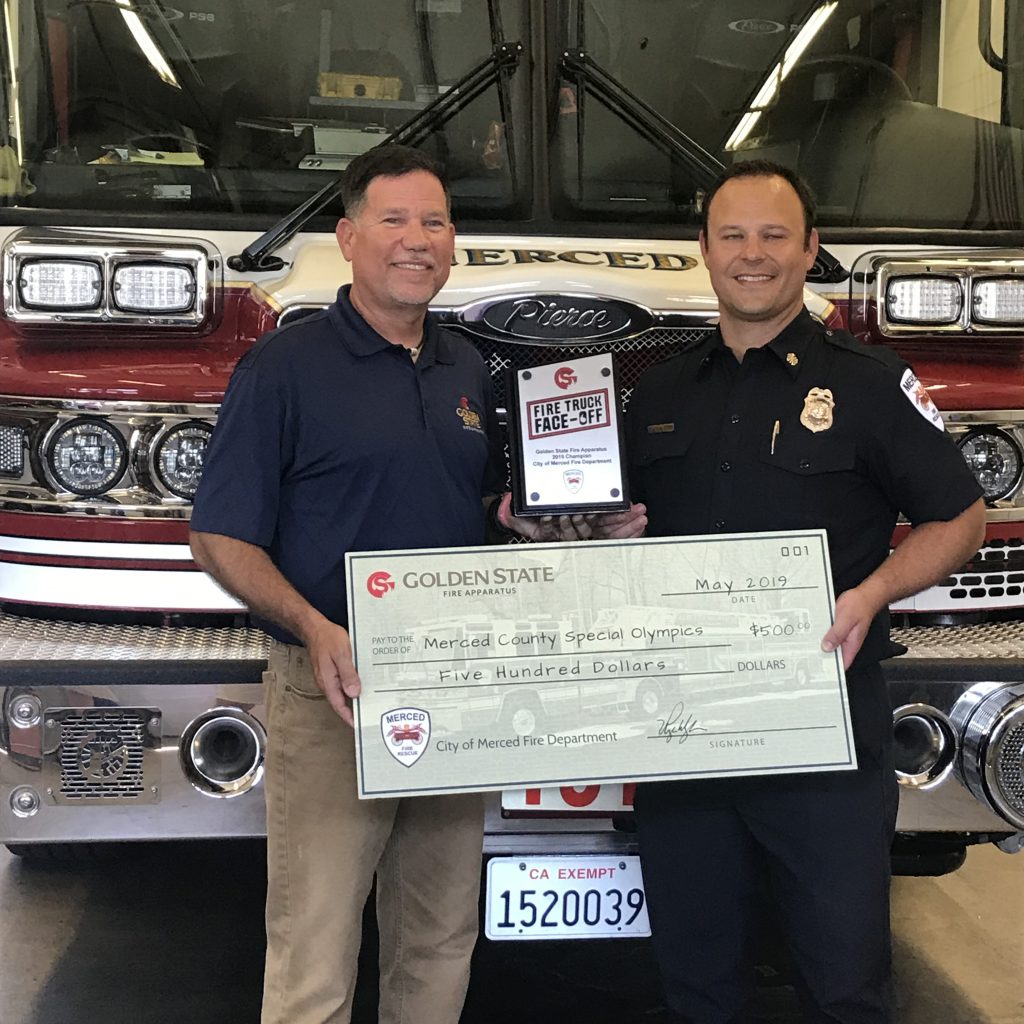 "My inspiration was to create a fun event that featured some beautiful apparatus and to highlight the many equipment configurations," he said. "I also wanted to engage our market and to drive interest in our social media page. … Also, with my athletic background, everything is a competition, right? Why not put them in a tournament?"
MHD Group, a Modesto-based branding, marketing and advertising agency, helped take Dinkel's vision to the next level this year.
"MHD really put a professional look and feel to this effort," he said. "We're super pleased this has received the response it has."
"People were highly engaged and there were many close contests," said Josh Park, MHD Group's marketing strategist. "Especially when the vote was evenly split, firefighters and their families were going to the GSFA Facebook page to vote and tag their friends. They really wanted to rally anyone and everyone they could to help their local fire company win. … To us, it proved just how energetic and dedicated Golden State Fire's customers really are."
Wright said the feedback has been "tremendous."
"Our customers really enjoyed it," he said. "Some wanted to know how they could be involved, so we're currently developing criteria for next year's competition. … At end of the day, it's nice to have our name on Facebook and extend our brand, but it's nice to have our customers enjoy themselves and get some recognition."