Training a wise investment in fire mechanics and vehicles
Fire trucks are complicated and expensive pieces of machinery. It's critical that the professionals who rely on them and service them understand how they operate to keep them in peak shape. Lives, literally, could be at risk if they aren't.
Training, therefore, becomes essential.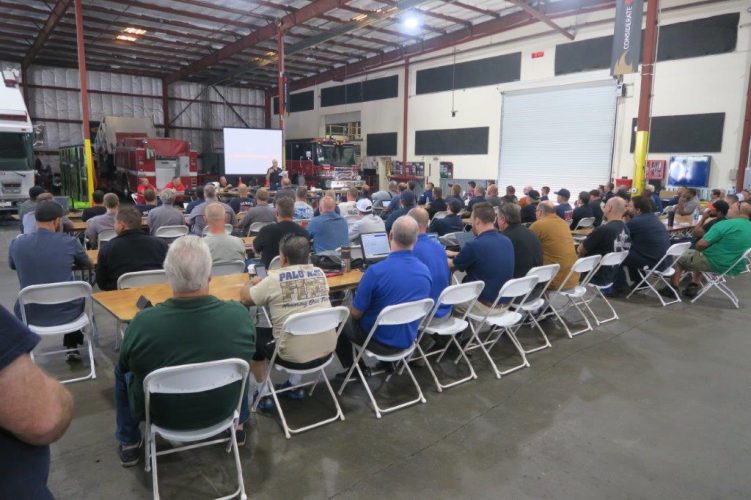 Northern California Fire Mechanics Academy Training
In California, the Northern California Fire Mechanics Academy conducts free training sessions six times a year. 

In August, Golden State Fire Apparatus in Sacramento served as the host. More than 100 mechanics and firefighters from Bakersfield to the Oregon border and northern Nevada attended the all-day session.
"We know that your team's performance is mission-critical," said Jason Dinkel, Golden State's operations manager. "That's why we advocate for training and education that allows your team to operate and maintain your fleet to the highest standards in the industry."
GSFA's factory-trained technicians led the training in August, which focused on the Command Zone 3 computer system as well as the Husky foam system.
The focus varies at each NCFMA gathering, but Tracy said GSFA switches topics each year.  
"It was a combination of lectures and hands-on training," said Rick Tracy, GSFA's service manager. "We had breakout sessions in the morning and afternoon. There were a lot of good questions asked."
"We keep to things that are fire apparatus-related and specific to technicians and mechanics."
Pierce Manufacturing Training
Pierce Manufacturing – which builds the apparatus sold by Golden State – offers extensive training throughout the year at its plant in Appleton, Wisc. In September, it also hosted a weeklong seminar in Las Vegas on all aspects of its equipment.             
Pierce's website features free training videos and lessons. To access them, go to http://www.pierceparts.com/. Log on as guest (lower left in RED), then click on   "Learning Modules" or "Training Manuals" to access items related to body and chassis, pumps and how to apply foam.
In addition, when there is enough regional interest, Pierce representatives will come to California to provide training, as it has done twice in the past few years in Chico.
"We want to encourage others to go to what the NCFMA offers as well as what Pierce does," Dinkel said. "Working with us, there are a lot of resources for training. It is a very good investment in your mechanics to help them take care of your vehicles."
If you have any questions about any aspect of your equipment's performance, Golden State wants to help. Reach them at (916) 330-1638 or at info@goldenstatefire.com