Skeeter apparatus top of the line in wildland environments
Fire danger rises exponentially each year as temperatures soar and conditions dry out in the Northern California mountains or when the hot Santa Ana winds blow off the desert toward the Southern California coast. Lives are endangered, homes and cities are threatened, and the risks increased for every minute that crews can't get close to a fire scene.
Skeeter Brush Trucks have proven to be an important weapon in firefighters' arsenal. Engineered to withstand the most rugged conditions, Skeeter trucks allow firefighters to access spaces in wildland situations across California that traditional equipment can't reach.
"A stock commercial truck cannot get off road to where the fires originate. It has to wait for fire to come to it," said Bill Davidson, Skeeter's vice president of sales. "Especially with the Santa Ana winds, you need to get out and knock it down. Our trucks can follow a bulldozer wherever it goes. They can go over a 3-foot hump and not even notice it."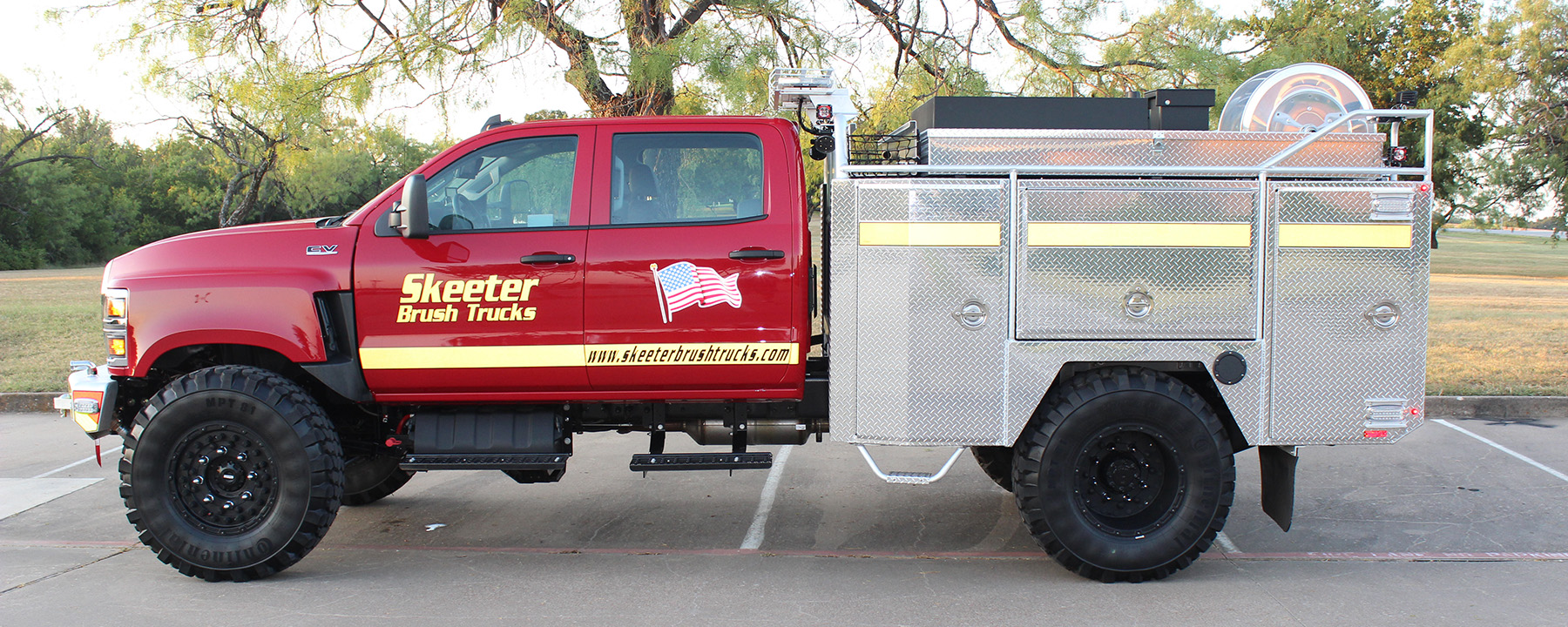 Though Skeeter has been building trucks at its factory in Hillsboro, Texas, for about a decade, it is still relatively new to the California market. In 2018, during one of the state's worst wildfire seasons ever, it sent about two dozen vehicles to California. Its exclusive dealer and service operator in the state is Golden State Fire Apparatus in Sacramento.
"Simplicity and price point" is how Golden State President Ryan Wright responds when asked what attracted him to Skeeter. The company has sold 28 Skeeter vehicles since January 2018, including multiple-unit purchases by Sacramento, Alameda County, Contra Costa County, Fairfield and San Ramon Valley.
"They're a tremendous value and they're well-built trucks."
– Ryan Wright
Nationally, Davidson said Skeeter controls about 21% of the wildland vehicle market and 80% of high-mobility lifted trucks. Its models also include tenders and rescue trucks. It sells primarily through the Pierce dealer network, which includes GSFA.
"Our parent company (in Houston) is the largest Pierce dealer in the world. We have a good relationship with Pierce," Davidson said.
Skeeter vehicles are built to operate in the harshest wildland conditions. They feature bigger tires, off-road suspension, armor plating, skid plates, winches, upgraded axles and drive shafts, heavier windshields and tanks that can carry up to 2,000 gallons.
"They're like a military truck," Davidson explained. "They perform exceptionally well off-road without sacrificing anything on the highway."
Skeeter prides itself on creating durable, affordable and flexible wildland apparatus for departments with any size budget.
That process starts with a preconstruction meeting in Texas so Skeeter's engineers can learn exactly how the customer intends to use the vehicle.
"We strongly encourage customers to be involved in the design process," Davidson said. "We specialize in listening to what the customer wants in the truck. It's not our truck. We're building it for them."
Skeeter apparatus can last up to 30 years, with the chassis designed to be replaced at 15 to 20 years.
"Fifty percent of our customers multipurpose our trucks," Davidson said. "It's a dedicated wildland truck that works well in other environments – emergency response or floods. We can build the body to suit the needs of any department."
Wright said word of mouth from current customers is the best referral for Skeeter apparatus. "I would say interest has definitely grown."