Boulder Creek earns 2021 Fire Truck Face-Off championship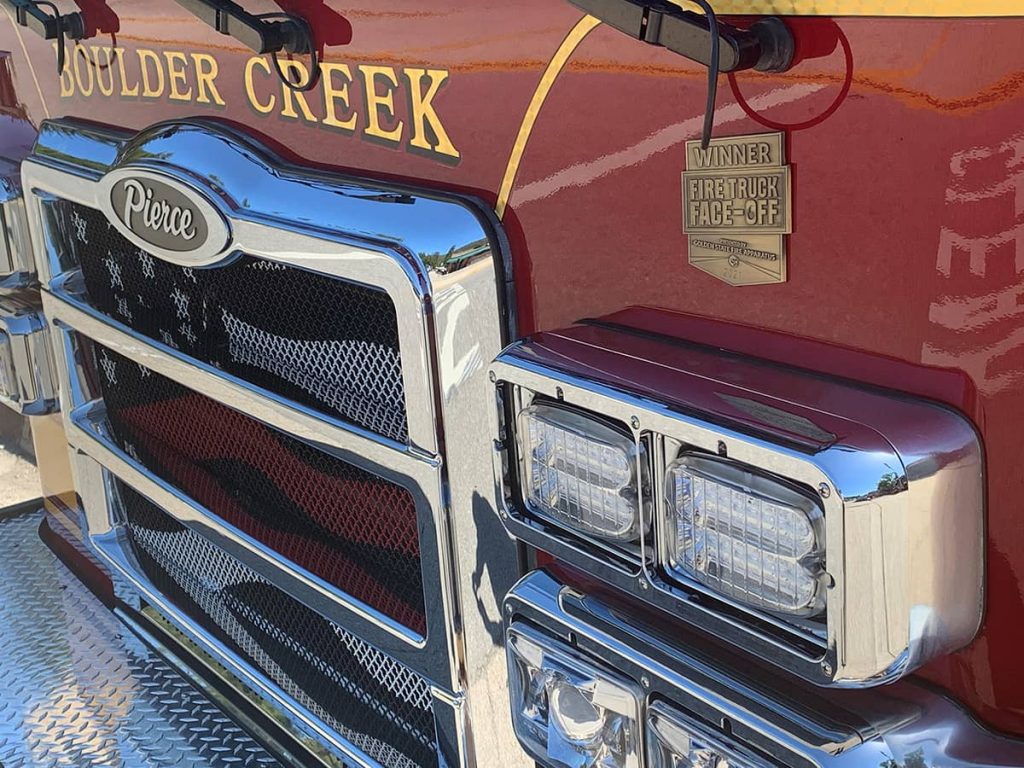 Like the firefighters who use it, Engine No. 2112 of the Boulder Creek Fire Protection District is a hard worker.
It is a Pierce pumper that has rolled out to just about every call since its delivery last spring. It was especially busy in September during the horrific CZU Lightning Complex Fire, which burned 85,509 acres across two counties near Santa Cruz, destroyed 1,500 structures, damaged 140 more and, tragically, left one person dead.
So, it is fitting that a piece of equipment that serves such an important purpose in the volunteer district is being recognized as the winner of the 2021 Fire Truck Face-Off competition sponsored by Golden State Fire Apparatus of Sacramento, Northern California's fire truck sales and service leader.
Each March, Golden State randomly selects 32 of the fire apparatus it has sold or leased in the previous calendar year. Those vehicles then are organized into a bracket – think of the March Madness college basketball tournament applied to fire equipment.
Fire apparatus of all types from the randomly selected departments face off, with the winner in each round advancing based on the number of votes registered on a website devoted to the competition. The key to winning, of course, is for each department to use social media and other methods to encourage its fans, followers and friends to vote.
This year's friendly competition reached more than 81,000 people in departments ranging from the Bay Area to the Central Valley and the Sierra foothills. Voting for each match took place over 24 hours so departments had to have a strategy to get the vote out when it was their turn.
Some of the matches were lopsided, but many were close. In the quarterfinals, the fire departments in Piedmont and Fairfield actually ended up in a tie, which was broken by a Zoom coin flip won by Piedmont.
The final four matched Boulder Creek's pumper against Piedmont's pumper and Napa County's tender vs. Sacramento's pumper. Boulder Creek and Napa County advanced, with Boulder Creek scoring a relatively easy 295-135 voting victory in the championship match.
The win earned Boulder Creek a $1,000 donation from GSFA to the organization of its choice – in this case, the local parks and recreation foundation – plus a badge to put on its vehicle and bragging rights for a year.
"We are very excited to support Boulder Creek and their win. They have a very tight-knit community in addition to a fantastic looking Pierce fire engine that made many people want to vote for them," said Ryan Wright, Golden State's president.
Battalion Chief Chuck Wise was Boulder Creek's point man during the competition. Though admittedly not experienced in social media, Wise leaned on co-workers when it came time to post on Facebook and even enlisted his 20-year-old son and 16-year-old daughter to help spread the word on social media that it was time to vote.
"We shared the Golden State posts about the competition, and we reminded our community members how they had passed Measure N a few years ago," said Wise, referring to the parcel tax that allowed the department to buy Engine 2112 last year. "We tried to engage with a lot of groups in our community and have them share it all over the place. People were happy that we won."
The closest vote, Wise said, came in the matchup with Marysville, which Boulder Creek won by about 20 votes.
The winning pumper – like many of those across the region – is in use virtually every day.
"It carries hoses and water and helps us respond to various emergencies," Wise said. "It's like a one-stop shop. It has the Jaws of Life, ladders and other tools. Pretty much everything we need to help the community."
It is not the first connection between Golden State and Boulder Creek.
Last fall, after the CZU Lightning Complex Fire had destroyed key pieces of the water system that serves about 10,000 people in the area 10 miles northeast of Santa Cruz, Golden State and W.S. Darley & Co. of Chicago, which makes water pumps, teamed up to deliver 5,000 gallons of drinking water to residents.
"In the end, it's all about charity and our social responsibility that we take seriously at Golden State," Wright explained. "We are thrilled to support this community last year with the water donation, this year with the Fire Truck Face-Off win and to support the department for years to come on their Pierce apparatus."
"We also want to thank all the fire departments that participated. To everyone who voted, shared and commented, you made this experience absolutely tremendous. We look forward to next year!"
About GSFA: Our trained staff of Emergency Vehicle Technicians works out of our 35,000-square-foot maintenance facility in Sacramento. We continually invest in tools and equipment so that your emergency vehicle receives the utmost care, while reducing the man-hours required to get the job done right. If you have any questions about any aspect of your equipment's performance, we're here to help. You can reach us at (916) 330-1638 or at info@goldenstatefire.com