Susanville fire chief thrilled with new truck, unique service arrangement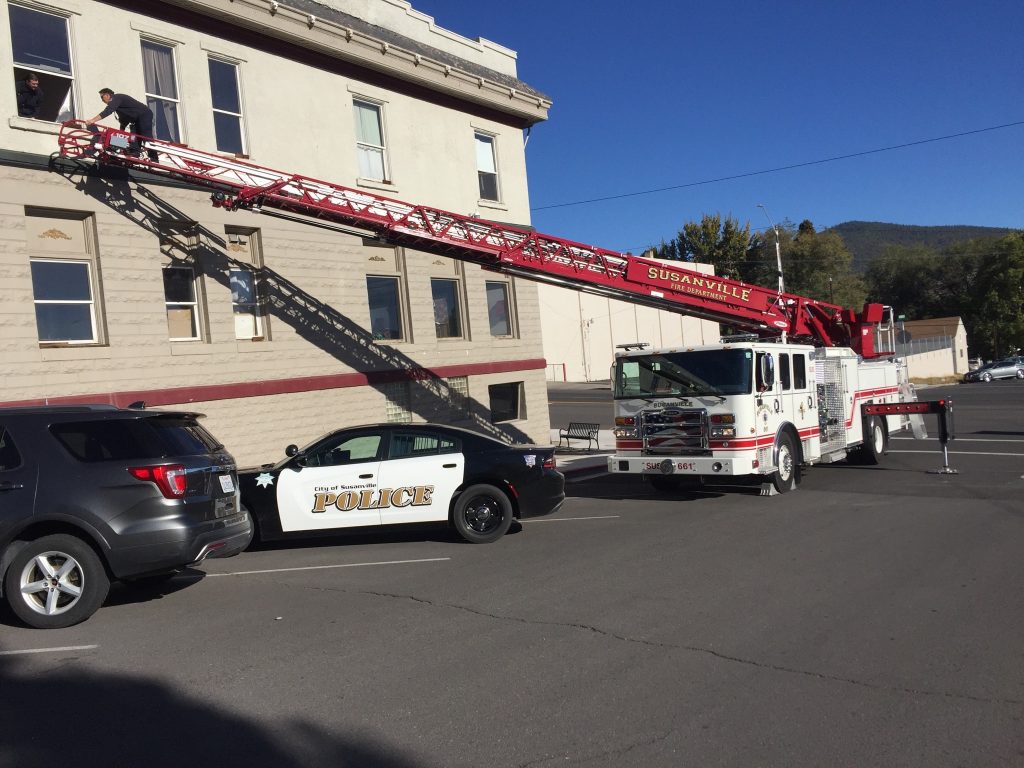 Through three fire chiefs and nearly two decades, the city of Susanville has been writing grants to the federal government trying to find a way to buy a new fire truck.
Finally last fall, good news arrived in the email inbox of Chief James Moore. The Federal Emergency Management Agency (FEMA) had approved a grant for $720,000, which required an $80,000 match from the city.
Armed with $800,000, Moore began shopping for a Quint aerial that would replace two 40-year-old vehicles. Moore invited Golden State Fire Apparatus – the Pierce Manufacturing dealer in Northern California – and one other national brand dealership to participate. Only Golden State was willing to work within his budget.
"The competition to Pierce said, 'No way,' " Moore said. "Golden State got back to me two weeks later and said Pierce cut the cost of the truck. … My math says they cut all their profit out and ate the taxes to make this work.
"I thought maybe they'd offer me a demo unit that had been driven all over North America. That would have been all right, but they offered me a brand new truck. It blew my mind. I ran to my City Council and said, 'We need to do this.' We ordered the vehicle."
Not only did GSFA come through with a sweet deal on the truck, it also crafted a one-of-its-kind service plan for Moore and his department. Golden State has a terrific service department at its Sacramento facility that is centrally located to many of its clients in Northern California. But Susanville sits in the northeast corner of the state on the eastern side of the Sierra Nevada – a 400-mile roundtrip that would mean two climbs over 7,057-foot Donner Pass.
Instead, Golden State leveraged its relationship with the Pierce network to accommodate Susanville. When the new truck needs service, Moore and his team will be able to make a flat 82-mile drive to Reno to have the vehicle worked on at new the Siddons-Martin Emergency Group's service center. Siddons-Martin, based in Houston, sells and services Pierce trucks and apparatus in Texas, New Mexico, Louisiana, Nevada and Utah.
"Even though the customer bought the unit from us, they are able to get service from another Pierce dealership that is logistically closer to them," explained Daron Wright, president of Golden State Emergency Vehicle Service. "This is not a typical scenario, but being that we have a wonderful relationship with Siddons-Martin and we are all here to help out each other, this was the best situation for everyone — Susanville, Golden State, Siddons-Martin and Pierce Manufacturing.  Everyone is on the same page with this arrangement."
Moore is appreciative of the flexibility and time savings the service deal will mean for years to come.
"It's one more reason to like Golden State," he said. "They know what we need and they know how to treat us."
Susanville's new truck was completed in mid-July, but wasn't put into use until September. That's because Pierce first asked to show it off at the FDIC industry trade show Aug. 2-6 in Indianapolis. The vehicle – painted a crisp white with red lettering – has room for seven firefighters and includes a carcinogen filter system that changes the air out every 3 minutes, custom storage and a 350-gallon water tank.
The truck – No. 661 — arrived in Susanville during the Dixie Fire. That blaze, which began July 13 in Plumas County, has charred more 960,000 acres and burned within a mile of Susanville's southwest border before it was pushed back. The new truck was on call but ultimately not needed for the Dixie Fire. Still, it already has become a favorite with Moore's team.
"It typically responds to any call," he said. "It's the first out on any commercial fire or structure fire. It will be first out on technical rescues. The staff loves it. They like the fact it feels safe. They know it's been engineered to our specifications and that it's ergonomic. They also like the fact it's all in one – pump and ladder."
Each time he thinks about the new truck and what it means for his city and staff, Moore once again appreciates the lengths to which Golden State went to make the deal and service arrangement happen.
"If I can get some funding, we'll buy a Pierce pumper from them," Moore said. "These guys went above and beyond. These people know how to treat a customer. I have a thank you card from them in my office, but they deserve one from me. They are off the board."
About GSFA: Golden State Fire Apparatus is the No. 1 Pierce dealership in Northern California. Our trained staff of Emergency Vehicle Technicians works out of our 35,000-square-foot maintenance facility in Sacramento. We continually invest in tools and equipment so that your emergency vehicle receives the utmost care, while reducing the man-hours required to get the job done right. If you have any questions about any aspect of your equipment's performance, we're here to help. You can reach us at (916) 330-1638 or at info@goldenstatefire.com