Pre-construction meeting critical during ordering process
Golden State Fire Apparatus prides itself on customer service.
It is part of what has made the Sacramento company the go-to destination for fire departments throughout Northern California.
The philosophy is layered throughout every level of the GSFA organization – from sales to service – but there is no better example than what is known as the "pre-construction meeting." It is an essential part of ensuring each customer receives exactly the right fire apparatus that it needs to fulfill its mission. It is the final step before engineering and production begin.
The meeting happens a month or more after a customer has placed an order. It can take place at GSFA's headquarters in Sacramento or the customer's home city, but most often is held at the Pierce Manufacturing factory in Appleton, Wisc.
Typically, a fire department will send its chief or designee, a captain, an engineer, a firefighter and, sometimes, a mechanic or fleet engineer. Representing Golden State is the sales representative assigned to that customer.
The purpose of the meeting, explained GSFA sales manager David Klockzien, is to go over every detail of the apparatus before construction begins. Since almost all pieces of apparatus Golden State sells are customized based on the buyer's specifications and needs, it's critical that everyone is on the same page and knows what to expect.
Clients are asked to bring a variety of things to the meeting:
Photos of upgrades or features on other apparatus they may want to incorporate on their own equipment
A list of tools that will be stored on the new vehicle, including height, length, width and weight
Details about their radio and electronic needs
Precise painting and striping details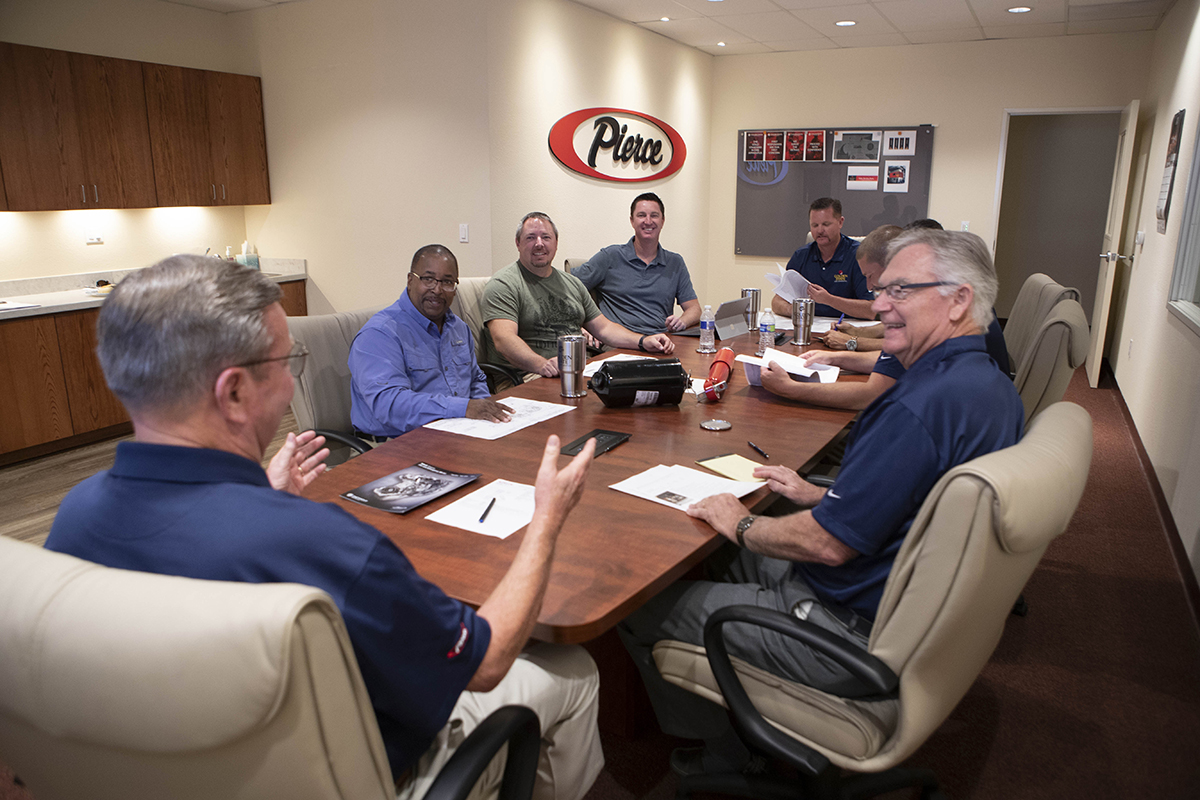 Klockzien also advises customers to bring one more thing – an open mind.
In many cases, the pre-construction meeting is a chance to see firsthand what has changed since the last time a department placed an order.
"Because most vehicles are replaced every 10 to 20 years, the pre-construction meeting allows department members to see new technology, designs and possibly use the technology to see if it provides improvements to their vehicle or operations," he said. "The meeting helps the customer to see what others are doing. It's easier to convince them when they see it, especially with upgrades or new features."
The Wisconsin meeting often lasts one or two days, Klockzien said, and sometimes includes a tour of Pierce's factory if customers haven't been there before. During the meeting, drawings of the type of apparatus being ordered are shown on a screen. The group will go over in detail each aspect of the apparatus from front to back. Any questions the customer has are addressed. No item is too small. If necessary, Pierce body, plumbing, electrical or mechanical engineers will join the conversation.
"Basically, it's getting them to sign off 100 percent because it's custom-built," Klockzien explained. "Almost every department has a certain way it wants to do things. Most departments try to keep vehicles as similar as possible, especially in the cab."
One of the main goals of the pre-construction meeting is to avoid change orders after fabrication has begun, which can be costly and delay delivery of the vehicle.
Each department's sales representative maintains regular contact with clients during construction. And photos of the vehicles as it's being built are posted regularly on the GSFA website under the "in production" pulldown, allowing customers to see the status of their vehicle.
Klockzien said some customers choose to make a return trip to Wisconsin for a review meeting midway through the building process, about the time the body and chassis are combined into one piece. The second meeting helps them visualize specific spaces and make better decisions about how to configure them.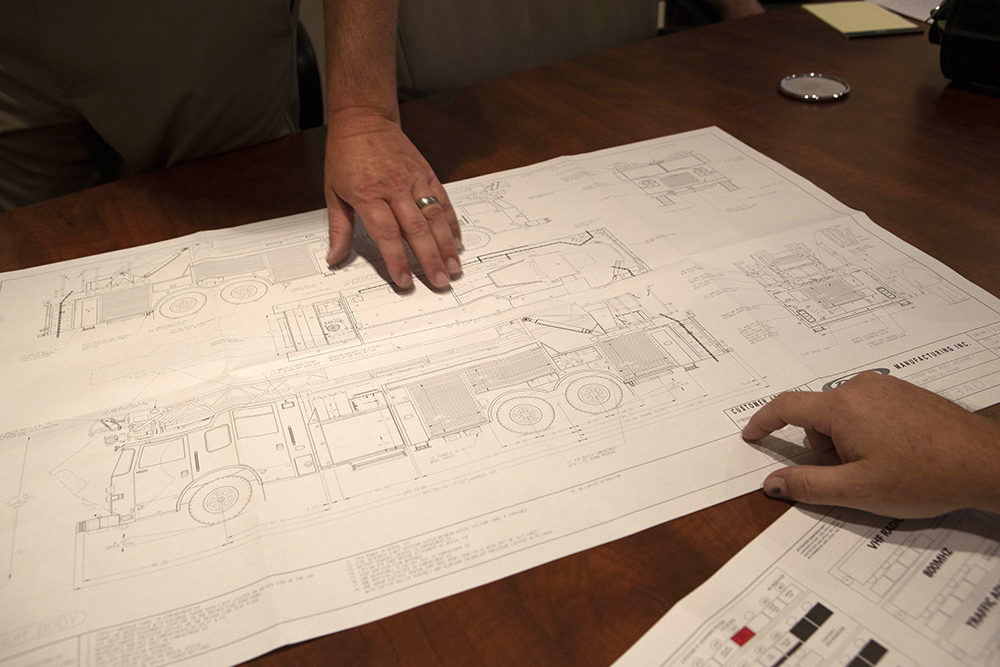 The exceptions to the face-to-face pre- and mid-construction meetings, Klockzien said, often are larger departments that purchase the same vehicles year after year. In those cases, meetings can be held over phone or via web conference.
No matter the situation, providing first-rate service that assures customers that they will receive exactly the vehicle they ordered is the goal. It's a promise Golden State delivers on, again and again.