Hanford earns title in 3rd annual Fire Truck Face-Off
College basketball fans across the country were disappointed this year when the NCAA cancelled the men's tournament – commonly known as March Madness – because of health concerns related to COVID-19. That wasn't the case, however, for the 3rd annual Fire Truck Face-Off sponsored by Golden State Fire Apparatus. Not even a pandemic could dim the enthusiasm of Central and Northern California's firefighters, their families and friends, who voted and participated in record numbers between late February and early April.
"The feedback has all been positive. From the chief officers to firefighters to residents, everyone had a ball with the contest," said Jason Dinkel, Golden State's operations manager and the architect of the contest.
Tournament Participants Were Selected Back In February
The premise is simple and, just like the NCAA Tournament, there is plenty of drama. In February, Golden State created a ping pong ball for each customer that purchased a vehicle in the previous fiscal year. The name of the purchasing agency and type of vehicle was written on the ball, and then drawn randomly to fill out a 32-vehicle bracket, just like the individual schools in the college basketball playoffs.
Beginning in Feb. 24, people could go to the GSFA Facebook page to vote for their favorites in head-to-head contests. Each day featured a different matchup – a San Jose heavy duty rescue vs. a Rocklin type 1 engine, a wildland engine from Corning vs. a City of Sacramento type 1 engine, a Fortuna platform vs. a Calaveras Consolidated type 3 wildland engine.
The Final Match was held on April 2nd, where Hanford emerged victorious
By early April, the field had been winnowed to two 110-foot ascendant aerial platforms – one from Hanford and the other from Clovis.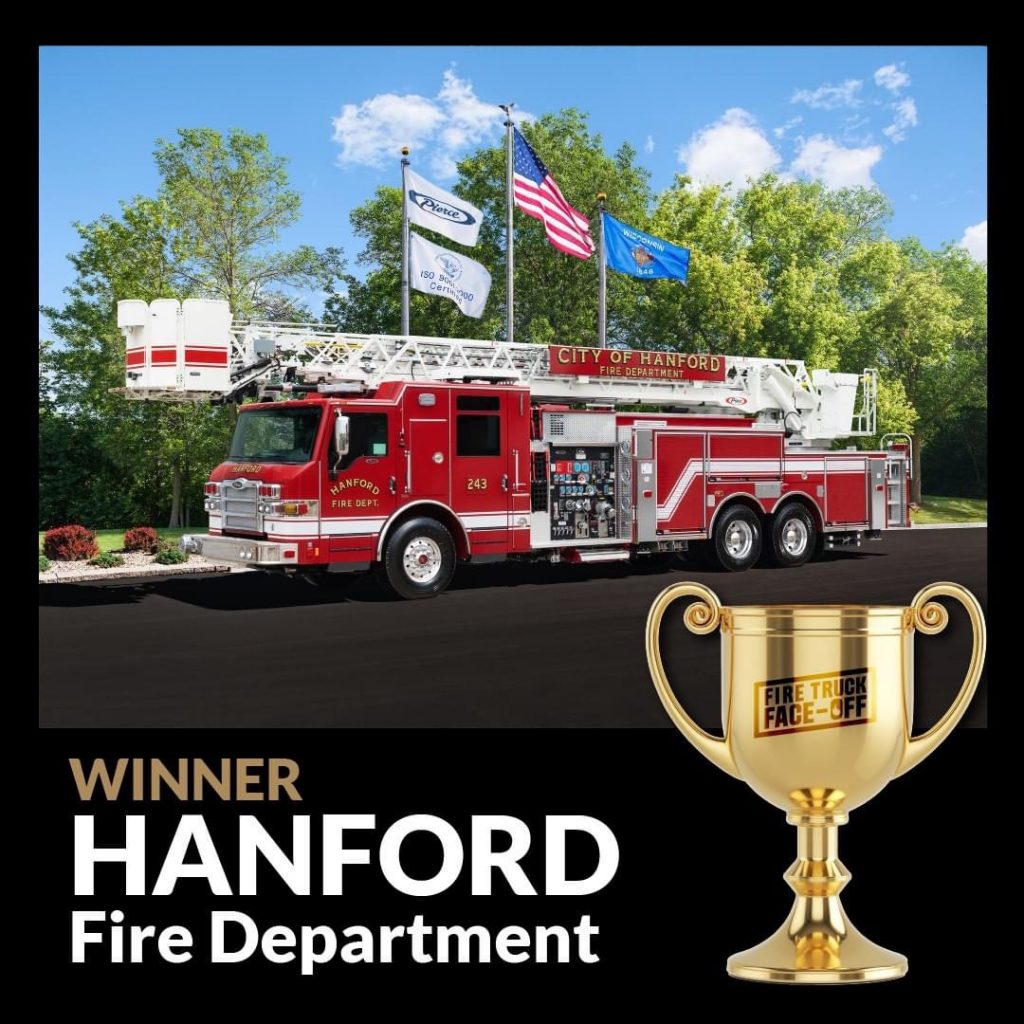 The winner? Truck 43 from the Hanford Fire Department. It received 58% of the votes to run away with the title against its regional rival. The two cities are about a 45-minute drive apart. Hanford defeated another nearby department – Tulare – in the semifinals. "A couple of guys who worked here work for Clovis now," said Hanford Fire Capt. Derek Weisser. "Same with Tulare, which is about 30 minutes away. We all do training together. There were some good conversations had."
Departments were encouraged to do whatever they could to drum up support. Many leveraged the reach of their own social media sites to encourage voters. Some attracted media attention, including a report on Fresno television station Channel 24 on three of the four semifinalists being from the same region.
Golden State sales consultant Dewayne Young's territory includes Hanford, Clovis and Tulare. He offered the three agencies advice about the contest, which was won in 2019 by Merced – where Young also is a fire captain. "All three departments had a lot of support," he said. "It was pretty phenomenal."
At first, Weisser said his department of 30 was uncertain about how to proceed. "This was our first Fire Truck Face-Off," Weisser said. "Dewayne explained it to us. He gave us some pointers and we went for it." One of the first things Hanford did was create some videos of Truck 43. One showed a Dalmatian dog sitting in the cab; others portrayed the aerial apparatus in action at fire scenes. "We started getting video footage right away," Weisser explained. "We posted a lot of it between rounds. The video changed a couple of times. We even tried to incorporate the downtown area of Hanford that everyone enjoys. "The city of Hanford is interesting. It's about 55,000 people and has a pretty strong community base. We knew we had outlets we could tap into. … We shared the contest on our Facebook page and got all our friends and family to share it with their social media groups."
Fire Truck Face Off was a huge success, bringing in over 50 thousand votes
Dinkel said it's just that kind of community pride and engagement the Fire Truck Face-Off hopes to inspire. "The departments and communities are very proud of their equipment and where they live and serve," he said. The response to this year's contest was impressive – more than 575,000 users reached and in excess of 50,000 votes, 7,600 shares, 3,900 likes and more than 800 comments. Many of those numbers are double from 2019. "Since anyone can see who voted, I have heard of departments actually reaching out to make sure that everyone's vote has been cast," Dinkel said. "And, of course, there are a lot of Facebook page shares and comments made to help encourage others to jump on board."
Hanford's closest call came in the quarterfinals against an aerial from the Fortuna Volunteer Fire Department. "They gave us a serious run for our money," Weisser said. "I think it was small-town pride. We were within a few votes of each other. At one point, it was 51 to 49 percent. It was a battle during the entire 24 hours." Hanford eventually collected 52% of the votes to win, a pattern it repeated twice more to take home the championship.
Good fun, and a good cause
The victory comes with bragging rights for sure, but more importantly, Golden State donates $1,000 to a nonprofit chosen by the winner. Young generously chipped in $500 out of his own pocket as well. This year, all that money will be sent to the Porterville Fallen Firefighters Fund. Tragically, the Porterville department had two men – Capt. Ray Figueroa and firefighter Patrick Jones — killed in February while battling a blaze at the city library. "Porterville is about an hour east of us in Tulare County," Weisser said. "We just felt it was right that the money would straight to the families there. We try to do what we can to our brothers and sisters."
Added Dinkel: "At the end of the day, this is really the most important aspect of this contest. All of the charities selected are worthy of these funds. Our hope is that this dollar amount continues to grow each year. We're super proud of everyone keeping this the focus and we couldn't be more pleased with others stepping up to contribute as well."