Mobile unit makes pump testing easier, more convenient
Among the most important pieces of any firefighting apparatus are the pumps.
Whether they're designed to discharge water or foam, the idea that a pump may not work properly at the scene of an emergency is a nightmare scenario for firefighters.
The National Fire Protection Association as well as Insurance Service Office (ISO) guidelines recommend that pumps be tested and serviced annually by certified technicians. Departments are required to keep a log of those tests.
Golden State Fire Apparatus makes it easy to keep pumps in tip-top condition
Not only does GSFA have three certified technicians on staff in Sacramento, for the past five years the company also has offered a convenient mobile service option. Golden State will send one of its trained professionals to any department in Central and Northern California – sharply reducing the down time associated with pump testing.
About half of GSFA's customers take advantage of the mobile service, said Operations Manager Jason Dinkel. Appointments can be scheduled a few weeks in advance. Typically, many departments test multiple vehicles in their fleet at the same time. The tests themselves take about an hour per vehicle. Set up – which involves preparing a large portable tank that holds up to 4,000 gallons of water – is about another hour.
Multiple tests are performed on each vehicle, depending upon the kind of pump it has. There is a dry vac test that checks for leaks and drafting capability, tank to pump valve test, a capacity test (for pumps with abilities from 500 gallons per minute and higher), an overload test, and tests at 75% and 50% of capacity.
All the water is recycled from the portable tank through the apparatus and back during the test. In some cases, necessary repairs can be made on the spot because Golden State's mobile unit is stocked with key parts, said lead mechanic Floyd Searle. Other times, that's unrealistic – "especially if we're doing five or six tests back to back," he said. In that situation, the vehicle must be taken to GSFA's state-of-the-art maintenance facility in Sacramento.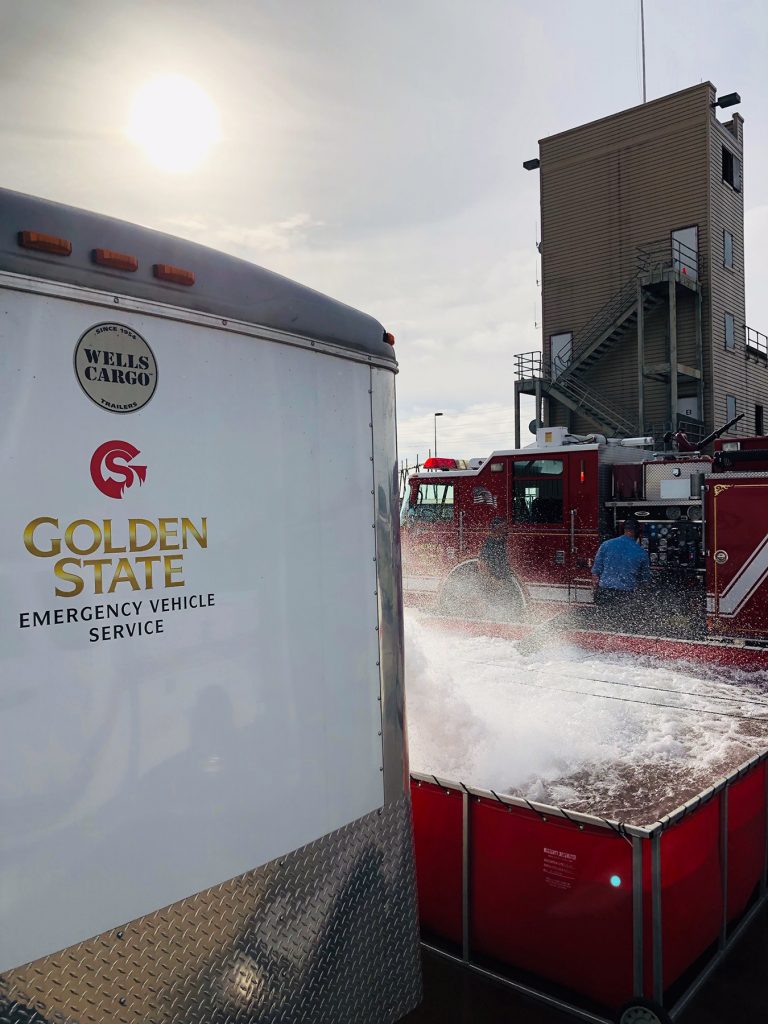 Golden State's mechanics are trained to work on all the most popular single-stage and two-stage pumps — Hale, Darley, Waterous, PUC (Pierce Ultimate Configuration). The most common problems with pumps often involve the valves, mechanical seals and packing, Searle said. Leaks can occur in the tank to pump valve, the pump fill valve and LDH large-diameter discharge valves, he said.
Water quality can affect a pump's performance. So can debris that can clog lines, especially in wildland situations where firefighters are drawing water from ponds, lakes or rivers. Even before testing, there can be signs that pumps aren't working as efficiently as intended, Searle said. Pump operators should routinely check the RPMs; pumps that are working harder will run higher than normal.
Fire departments also are strongly encouraged to stay on top of routine maintenance they should be doing, Searle said. That includes operating the pump properly and flushing it out daily, and discharging the relief valve at least once a week. All those procedures are spelled out in the owner's manual.
"If you take care of the pump, it can last the life of the vehicle," Searle said.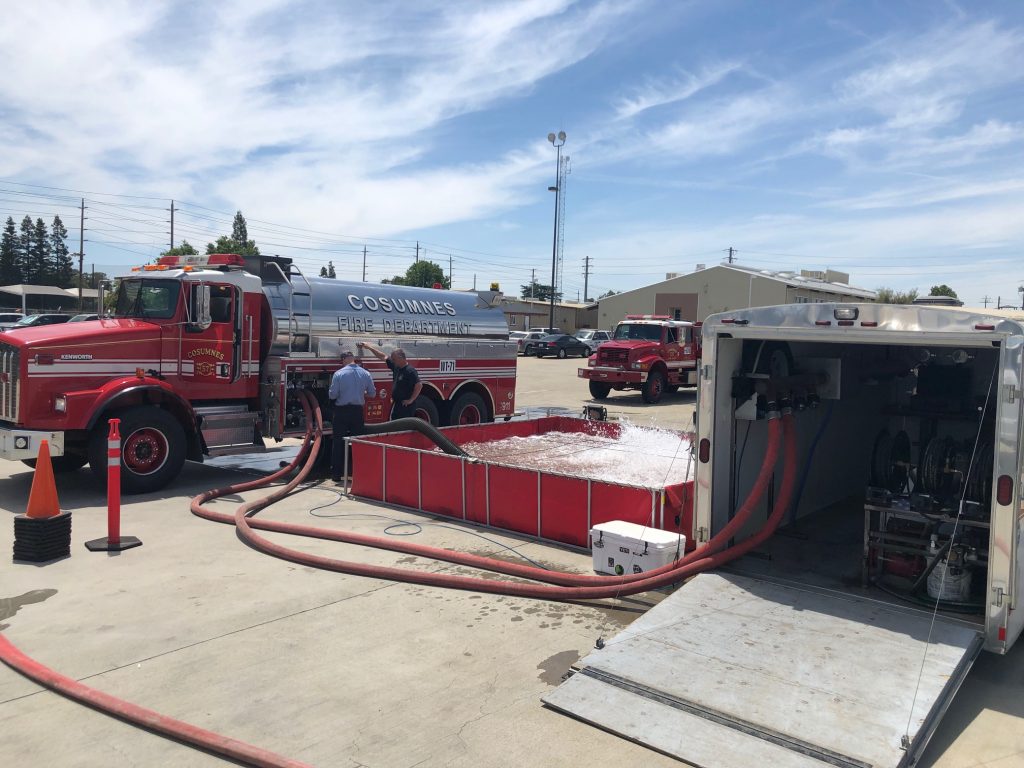 Added fire mechanic Drew Frazelle: "The single most important thing firefighting crews can do to prevent costly repairs to their pumps is to operate them and exercise the valves regularly. Valves that don't get exercised can very difficult to open or seize all together."
Routine maintenance also includes checking the auxiliary pumps included on many vehicles. Those smaller pumps typically run at 500 GPM or less.
Dinkel said it's important that operators are familiar with their pumps, how they work and how to recognize early warning signs because almost all pumps are "customized and configured" based on a department's needs.
Frazelle said Pierce offers regional training opportunities multiple times a year to help operators become more comfortable and confident with their vehicles. The next one, which he will attend, is scheduled Sept. 9-13 in Las Vegas. 
Golden State also is poised to expand its own pump-testing capabilities. Before the end of the year, it will be able to work with pumps with volumes up to 2,000 GPM, further cementing its reputation as the leading service destination in Northern California for firefighting apparatus.